Dark Chocolate Babka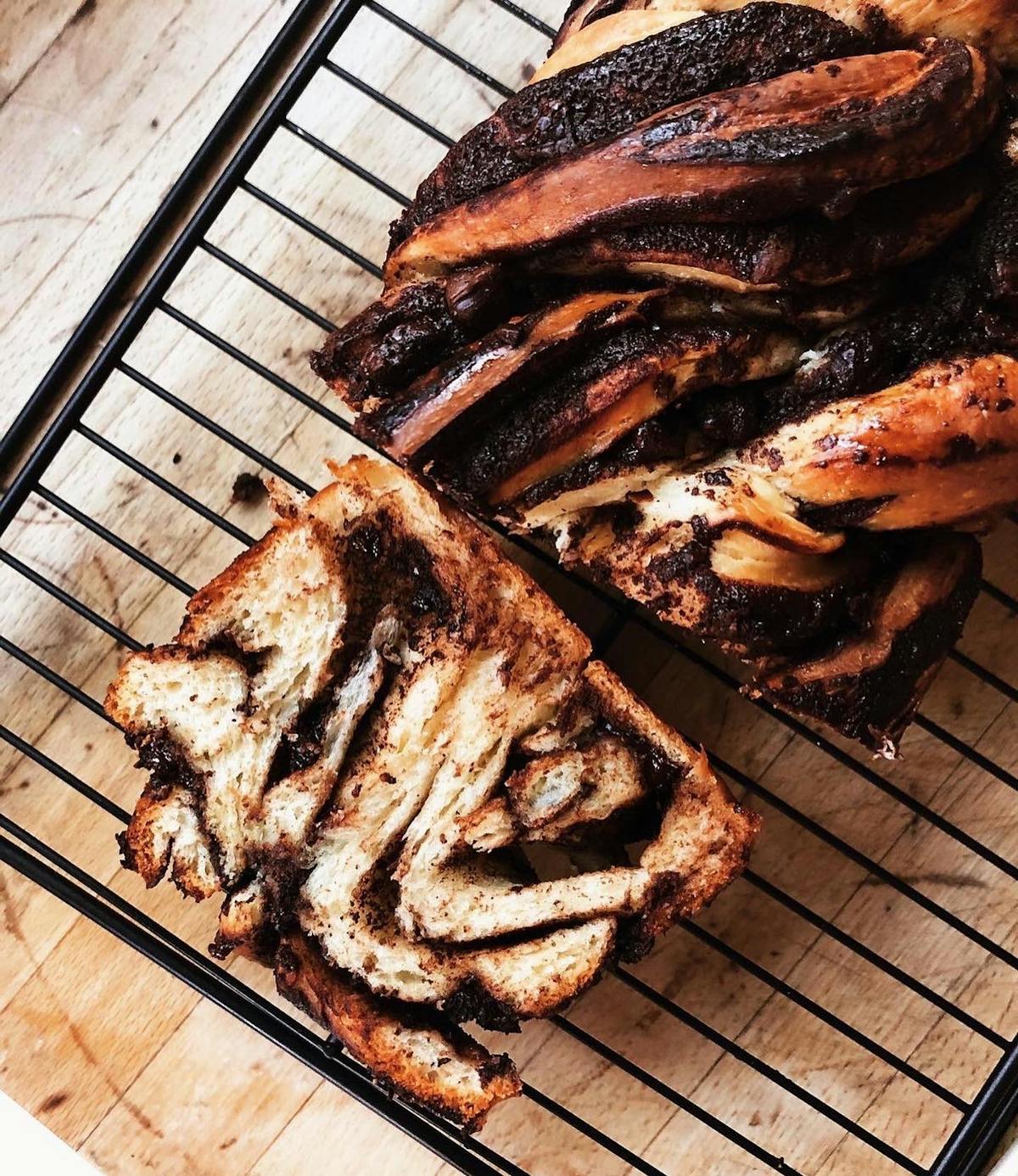 I probably made over ten babkas last year during the holidays because it's such a perfect food gift – good size, nut-free, decadent but not too sweet (for those without as much of a sweet tooth), has decent shelf life.
Melissa Clark/NYT Cooking's chocolate babka recipe is fool-proof, as far as my babkas are concerned! I like it less sweet though, so the below recipe is slightly tweaked (omitted streusel, less sugar, less simple syrup soak). I added chopped chocolate for texture, and if not made nut-free, would go well with hazelnuts or pecans too!
INGREDIENTS (yields 2 loaves)
Dough:
½ c./118 mL milk
1½ tsp. active dry yeast
3 T. granulated sugar
4¼ c./531 g. all-purpose flour, more as needed
1½ tsp. salt
1 tsp. vanilla
4 eggs
10 T./140 g. unsalted butter, softened
Fudge filling:
¼ c./50 g. granulated sugar
¾ c./177 mL heavy cream
Pinch of salt
6 oz./170 g. dark chocolate, coarsely chopped
8 T./112 g./1 stick unsalted butter, soft
Extra:
Handful of chocolate chips or chunks, chopped into smaller pieces
Syrup:
⅓ c./67 g. granulated sugar
⅓ c./80 mL water
PROCEDURE
Dough:
Mix all dough ingredients except for the butter until it comes together in a soft mass. If dough sticks to the side of the bowl/doesn't come together, add 1 T. flour at a time (I didn't need to).
Add half the butter and knead until incorporated, then add the rest of butter and knead until smooth & elastic. If dough sticks again, add 1 T. flour at a time (but again, I didn't need to).
Place dough in clean bowl, cover and let rise for 1-2 hrs until puffy (it won't double in size).
Punch down, re-cover, and refrigerate until ready to shape. Ideally you'd refrigerate overnight or >4 hrs, but totally fine to continue right away.
Fudge filling (make while dough is rising):
In saucepan over medium heat, simmer sugar, cream, and salt until sugar dissolves.
Remove from heat and stir in chocolate and butter until smooth.
Let cool at room temp or in fridge until it's a spreadable consistency, like nutella.
Syrup (make while loaves are baking):
Simmer sugar and water until sugar dissolves.
Assembly:
Prep two loaf pans with oil & parchment.
Shape babkas (might be easier to just watch a video for visuals):

Remove dough from fridge, divide in half.
Roll out one piece of dough into a large (~9×17") rectangle.
Spread half the fudge filling and chocolate chunks from edge to edge.
Starting with the long edge, roll tightly.
Slice roll in half, lengthwise.
Twist halves together like a 2-strand braid, then fold braid in half.
Place in loaf pan, repeat with the other half of dough.

Cover and rise for 1-1½ hrs until puffy, or cover with plastic wrap and rise in the fridge overnight and bring back to room temp for 1 hr before baking. Can also plastic wrap and freeze at this step.
Toward the end of the rise, preheat oven to 350F.
Bake 40-50 min until tester comes out clean.
Pierce all over with skewer or paring knife, going all the way to the bottom, then pour syrup over.
Leave to cool before cutting in.
By Jane (Cake Barn)
Bio:
Hey, it's Jane! I started baking in elementary school, and have been doing it ever since. I derive the greatest sense of joy from expressing care for people through food. I bake from home for family and friends, as well as occasionally part-time at bakeries on top of my full-time job in tech. I also enjoy documenting all my bakes on @cakebarn!