Apple Invisible Cake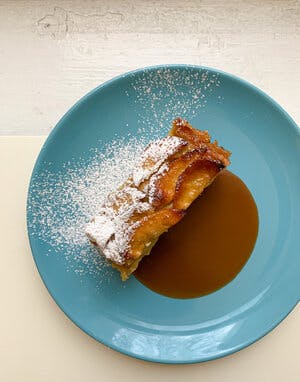 Though many people dread tiring layovers during their long-haul flight itineraries, I on the other hand love them since it provides a pretty unique experience of exploring another country—even if it's just for a day! Being an admirer of Japanese aesthetics and a lover of their different cuisines, this cake brings me back to an amazing 8-hour layover I had in Tokyo and Narita. And I'll tell you, slurping on bowls of ramen does wonders to one's nap afterward on the connecting flight!
Hailing from France, Gâteau Invisible is a cake that contains sliced apples mixed in with a thin, crepe-like batter. It is called "Invisible" because of how the layers marry and merge as the apples disappear into the batter. After baking, the textures are pretty unique. Think a cross between a custard, a pie, and a crepe! Being popular too in Japan, I loved the idea of incorporating sweet and salty white miso throughout both the cake and the caramel. Though a bit odd at first, after trying it out, Apple and Miso are heavenly together. While I hope that I can return to Japan to explore the many exciting food scenes they have, for now, I think this cake is pretty close to that dream.
Apple Invisible Cake
This Recipe is scaled up and adapted from Tim Chin's Gâteau Invisible Cake on Serious Eats.
Ingredients:
Cake:
1 ½ cup All-purpose flour
1 ½ tsp Baking Powder
4 Tablespoons White/Shiro Miso Paste
3 Tablespoons Butter, melted
¾ cup Milk, lukewarm
4 Eggs, room temperature
1 cup sugar
2.2-2.5 pounds of ⅛-inch thick sliced apples, fuji, gala, or (approx. 3.75 pounds of whole apples)
Caramel:
1/2 cup water
1 cup white sugar
1 ½ cup heavy cream
3 Tablespoons White/Shiro Miso Paste
Instructions:
For the Cake:
1. Preheat oven to 375°F (190°C)
2. Grease an 11 1/2-inch by 4-inch loaf pan and line with an 11-inch by 14-inch sheet of parchment paper, making sure that a portion of the paper on both sides of the pan, forming a sling. Grease and flour the other exposed sides of the pan.
3. In a bowl, combine flour and baking powder.
4. In another bowl, whisk miso and butter until well combined. Gradually whisk in milk until smooth.
5. In the bowl of a stand mixer fitted with a whisk attachment, whisk eggs and sugar at high speed until pale, light, and glossy.
6. In three alternating increments, gently whisk in the dry mixture (flour & baking powder) and wet mixture (miso, milk, & butter) until well combined. Mix until no lumps remain. The batter should have a crepe-like consistency.
7. In a separate bowl with your sliced apples, gradually fold in the batter until all apples are evenly coated. Depending on the size and amount of apples, you may have excess batter (perfect for crepes!)
8. Arrange coated slices in the prepared loaf pan in an overlapping pattern. Make sure that the flat sides of the apples are even-laid and the whole cake is compact without any gaps. And be cautious in adding in too much batter to prevent it pooling on the bottom.
9. Continue arranging apples in even layers until apples are ¼-inch from the top; press apples down to evenly distribute.
10. Arrange the top layer in a horizontal, shingled/overlapping-tile pattern.
11. Place in the preheated oven with a tray underneath to catch any leaks.
12. Bake for 65 to 75 minutes, until the top, is golden brown and caramelized, and a toothpick inserted into the center comes out clean. Allow the cake to cool completely.
For the Caramel:
1. In a thick-bottom saucepan, combine water and sugar over medium heat.
2. Move around until it comes to a boil, about 4 minutes.
3. Continue to move around the pot without stirring until syrup is lightly caramelized (light-medium amber in appearance), roughly 3-5 minutes.
4. Whisk in cream and reduce heat to medium-low.
5. Stir constantly with a whisk until caramel registers 225°F or is golden brown in appearance, about 3 minutes.
6. Off heat, whisk in miso until smooth and combined.
7. Transfer caramel to a heat-safe container and reserve until ready to use.
8. To serve, cut the cake into desired slices, finish with powdered sugar, and serve with warm Miso-caramel. Keep the cake in the fridge.
Anthony Trabasas