Banana Oatmeal Cookies with Chocolate Chips and Toasted Pecans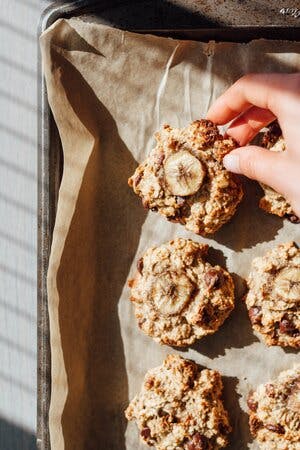 This recipe was born out of two reasons, really. The first was a desire for some semblance of familiarity when I found myself finishing up my semester from home last spring, that led me on the hunt for a copycat recipe for the after-lunch treats I pick up nearly every day from my favorite food cart at school. The second was much more practical: I had a pile of nearly too overripe (and that's saying something) bananas on my counter, and a family of four can only have so many loaves of banana bread on their counter at a time.
To make these, I used one of the many, many recipes for two-ish ingredient banana oat cookies that exist online as a base and heavily adapted it––because I'd made those cookies before, and honestly, like those two-ingredient banana egg pancakes you've probably seen floating around as well, they simply weren't all that good. Some of the changes I made were more texture or even chemistry-based, you could say: I added baking powder to lighten them a bit (I've always found the originals a tad too dense and gummy), ground half of the called-for oats into a powder that would behave more like the flour you'd find in a typical cookie recipe, and added sugar––brown for flavor and some chew, and granulated to aid any crisping/browning. The other additions were flavor-focused: vanilla, chocolate chips, and then a handful of roasty toasty pecans for nuttiness and extra crunch. I also played with the baking temp and time, opting for a slightly higher starting temp than originally called for and then boosting it towards the end to encourage more browning around the edges; I even stuck mine under the broiler for a few minutes.
The result is a cookie that's as close to the original food cart favorites as I think I'm ever going to get. They're crisp on the outside, taste kind of like banana bread, and feel healthy but not strictly like health food, if you know what I mean. If you have bananas sitting on your counter, you probably also have all of the other ingredients (no coconut oil? Any neutral oil should do the trick). And if you, like me (and the rest of the damn world, it seems), already made your fair share of banana bread during quarantine, these might be a welcome change of pace.
Oh! And they're vegan. And gluten-free, too.
Banana Oatmeal Cookies with Chocolate Chips and Toasted Pecans
Recipe and photo by Alaina Chou, originally published on crumbsandnibbles.com
Ingredients:
2 medium very ripe bananas, mashed
1 cup rolled oats, blended into a powder
1 cup (whole) rolled oats
2 tablespoons coconut oil, melted
2 tablespoons granulated sugar
2 tablespoons brown sugar (light or dark is fine––whatever you have on hand)
3/4 teaspoon baking powder
1/2 teaspoon vanilla
Pinch of salt
1/4 cup chopped toasted pecans (optional)
Handful of chocolate chips (optional)
Instructions:
Heat the oven to 350 F. Line a cookie sheet with parchment.
In a medium bowl, mix all ingredients together well. Scoop onto your prepared pan (I used a heaping medium cookie scoop and got 11 cookies), flattening each cookie just slightly.
Bake for 12-15 minutes, then turn the oven to 425 and bake another 2-3 minutes (keep an eye on them), until starting to brown. If you want them more browned and crispier (as I always do), finish by putting them under the broiler for a few minutes, until the edges are to your liking. Cool on a wire rack.
Note: These cookies really are best the day you make them-–they tend to get rather soggy when stored. I recommend warming any extras in the oven to re-crisp.