BBQ Chicken Review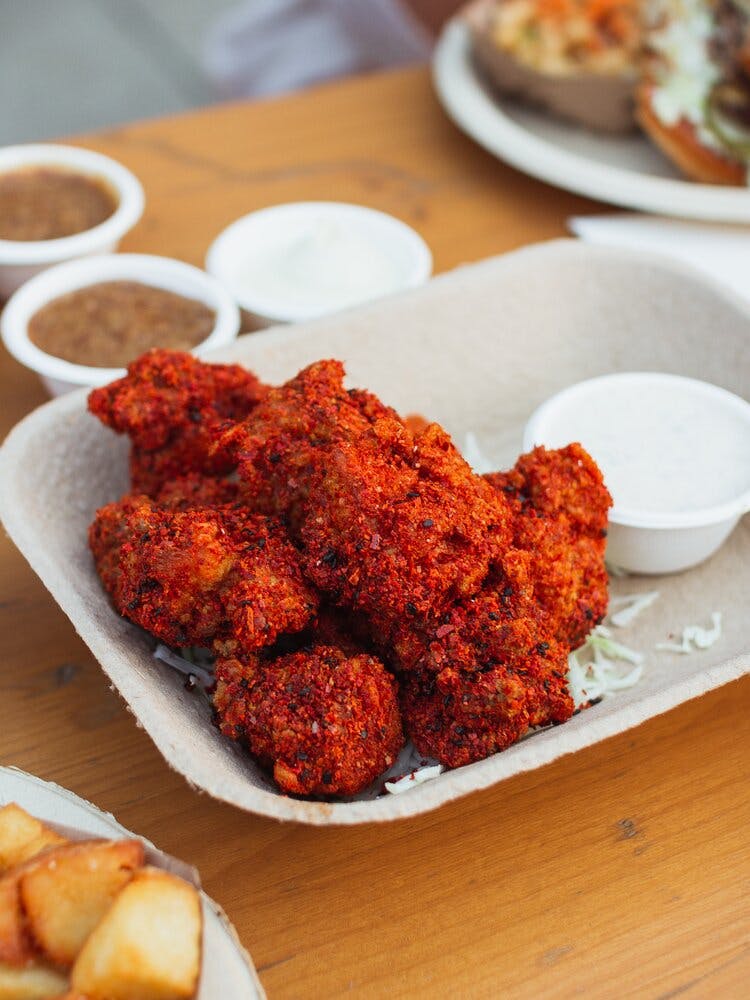 BBQ: Best of the best quality. Korean fried chicken is a staple- I would say anywhere. BBQ Chicken is letting the world taste what truly makes Korean fried chicken special, priding themselves on quality over anything. Fried in olive oil for the best exterior crunch and flavor, this chicken shines with traditional Korean flavors.
Due to COVID, we placed our order for pick-up, which the restaurant seemed well adjusted to. Walking in, there were multiple hand sanitizer stations, heavily spaced out seating, gloves for diners, and employees checking your temperature at the door.
After looking over the menu, we ordered the half and half combo of Golden Olive and Secret Sweet, as well as Gang-Jeong boneless wings, and a side of french fries. Each order also comes with a side of pickled daikon radish, a great tangy and refreshing break in between the fried chicken.
The half and half combo was an assortment of legs, breasts, wings, and boneless meat. This is the way to go if you were to order anything off the menu. Right away, I was surprised by how good their original Golden Olive was; the definition of less is more. It delivered in quality with juicy chicken, tenderness, and an amazing crunch. The Secret Sweet is gochujang for anyone who has a hard time handling spice. It was delicious without being overly sweet like the typical sweet-savory dishes in America.
Though I am not a huge fan of pickled vegetables, the daikon was just right. It didn't taste too vinegary, but instead fresh. The french fries were pretty simple, standard thick-cut and fluffy fries. I recommend dipping them in the sauce that collects in the container of your fried chicken. We don't waste anything around here.
Notorious for being the boneless wing-anti in my family, I was shocked at how good the Gang-Jeong boneless wings were. The Gang-Jeong sauce was similar to the Secret Sweet but with a tad bit more kick to it. I wanted that sauce bottled up at the end of the meal.
If you've only had American fried chicken, Korean fried chicken will rock your world. It doesn't leave you feeling weighed down or greasy after you finish it. In fact, it just makes you want more!
Check out any of the BBQ Chicken locations across the country to find amazing quality and flavor. It won't disappoint.
Vivian Nguyen