Blood Orange Poppyseed Ricotta Cake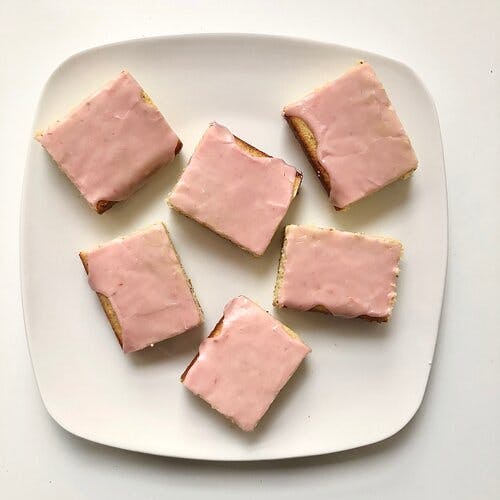 This one-bowl cake is just the right balance of sweet and tart and has a wonderfully light and tender crumb. It's easily whisked together in under 10 minutes and is quick to bake. Thanks to a combination of ricotta and oil, the cake keeps well for days, and is even better on the second day. The natural color from the blood orange juice makes for the prettiest pale pink glaze.
Makes one 8x8-inch cake | Prep time: 10 min | Cook time: 35 min
Ingredients:
Cake:
1 cup granulated sugar
1 tablespoon blood orange zest (from 1 blood orange)
1 cup whole milk ricotta
2 tablespoons blood orange juice
½ cup canola oil
2 large eggs
1 teaspoon kosher salt
2 teaspoons poppy seeds
1 ¾ teaspoon baking powder
1 cup all-purpose flour
Blood Orange Glaze:
¼ cup blood orange juice
¾ cups confectioners' sugar, sifted
¼ teaspoon kosher salt
Recipe:
1. Preheat the oven to 350° F.
2. In a large mixing bowl, combine the sugar and the zest and using your fingers, rub the zest into the sugar until fully incorporated. Add the ricotta, juice, oil, and eggs and whisk together until blended.
3. Add the salt, poppy seeds, and baking powder, and whisk again to combine. Add the flour and use a rubber spatula to incorporate until it is no longer visible.
4. Pour the batter into the prepared pan bake for 35 to 40 minutes, until it springs back when touched, and a toothpick inserted into the center comes out clean. Allow the cake to cool completely.
5. To make the glaze, place the confectioners' sugar, blood orange juice, and salt in a large bowl. whisk vigorously until smooth.
6. Gently pour the glaze over the cake, using an offset spatula to spread the glaze. The cake will keep in an airtight container at room temp for up to 4 days. It tastes even better on the second day!
Stephanie Loo