Braised Lamb with Warm Spices, Caramelized Onions, and Apricots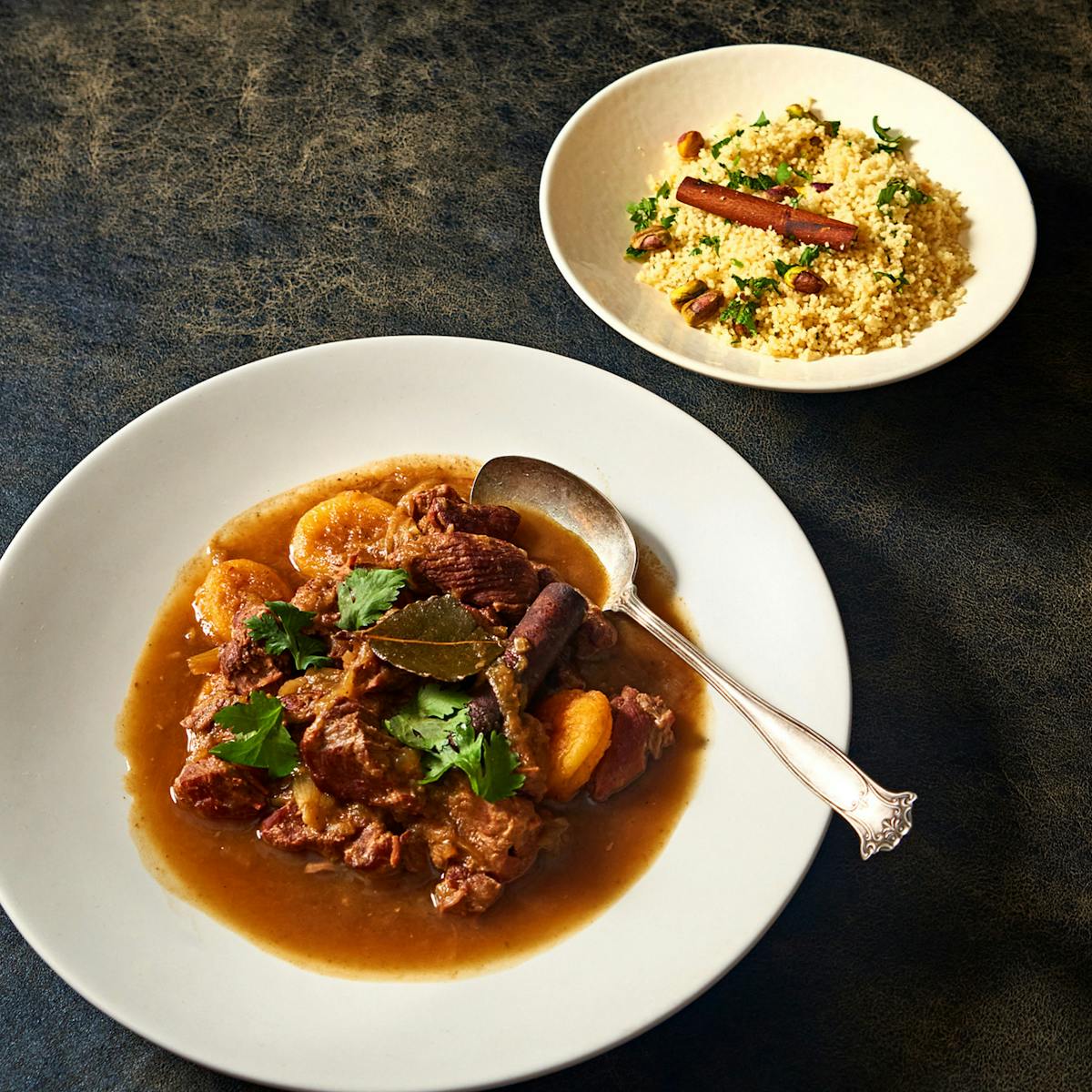 Ingredients:
2 lb cubed lamb stew meat
2 large yellow onions (or three medium ones)
5 shallots, peeled and halved
6 cups chicken stock
1 1/2 tsp ground ginger
1 tsp ground cumin
2 bay leaves
1 tsp ground coriander
1/2 tsp ground cardamom
4 cinnamon sticks
2 tbsp olive oil
1/3 cup dried apricots
Salt
Pepper
Cilantro, finely chopped, for serving

To make:

Place lamb on a sheet pan and pat down with paper towel to make sure it's completely dry. Season with salt and pepper. Heat oil in a large dutch oven over medium- high heat until it starts to glisten. Cook lamb in batches until thoroughly browned, about 7-10 minutes. Make sure not to crowd the pan (crowding prevents the meat from properly browning). Transfer lamb to a plate and do not discard any of the burnt bits or fat in the pot! Immediately add onions and shallots and cook on low heat until brown and soft, 20-25 minutes. Once caramelized, add spices, bay leaves, chicken stock, and lamb. Bring to a boil and season to taste. Once bubbling, turn heat to low and cover the pot, leaving a small crack open on the side. Cook 2 1/2 hours, then add apricots. Let stew for another 30 minutes, Serve with couscous and chopped cilantro.

Pistachio Mint Couscous

2 cups couscous
3 cups chicken stock
1/4 cup roasted unsalted pistachios
1/4 cup mint leaves, roughly torn
2 cinnamon sticks
1/2 tap ground cardamom
3 tbsp olive oil

Place couscous in a large bowl and coat with olive oil. In a small pan, heat chicken stock and cinnamon sticks until just boiling. Pour chicken stock over couscous and season with salt. Cover with tinfoil and let sit for 5 minutes. Remove foil and fluff with the back of a fork, breaking up any clumps. Add pistachios, cardamom, and mint.
By Romilly Newman
Bio:
Inspired by the Food Network, Romilly taught herself how to cook at the age of 10. At 11, she started a food blog called "Little Girl in the Kitchen."
She was at the forefront of the teen chef and blogger movement, and has continued to devote her time to writing about and making food. Now 23, Romilly works as a tastemaker, recipe developer, and food stylist for various brands and publications. She recipe tested The Well + Good Cookbook, regularly develops recipes for Tory Sport, and has styled for brands such as Cherry Bombe, Great Jones, InStyle, Perrier Jouet, MyTheresa, Saveur, and EyeSwoon.