Bruléed Fig and Brown Sugar Clafoutis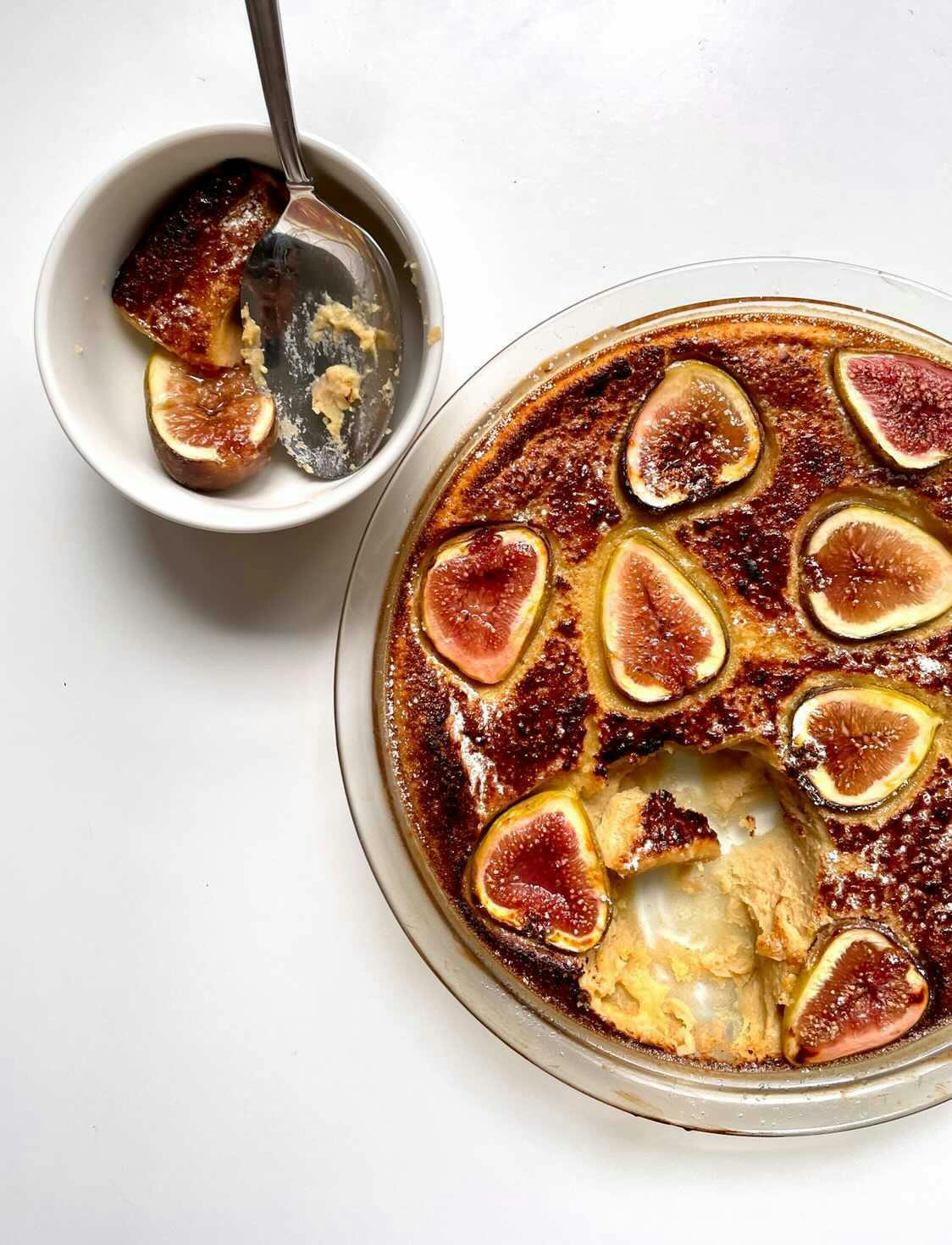 Bruléed Fig and Brown Sugar Clafoutis
Makes one 9-inch clafoutis
Ingredients:
6-7 figs, halved
½ cup/100 grams dark brown sugar
½ teaspoon Kosher salt
4 large eggs
¾ cup/180 grams crème fraîche, plus more for serving
1 tablespoon vanilla extract
¼ cup/57 grams heavy cream
1 tablespoon whiskey, bourbon, rum, brandy, or other dark liquor
½ cup/60 grams all-purpose flour
Confectioners' sugar for dusting
(Optional) Vanilla ice cream for serving
1. Preheat the oven to 400°F/190°C. Lightly butter or grease a 9" pie pan. Arrange figs cut-side-up in the pan.
2. In a food processor or blender, combine the brown sugar, salt, eggs, crème fraîche, vanilla extract, heavy cream, whiskey (or other liquor) and process until smooth. Add the flour and pulse just to combine. Carefully pour the egg mixture around the figs in the pie pan. Bake until the clafoutis is golden and set, about 25 minutes, rotating halfway through.
3. Remove the clafoutis from the oven and set the oven to broil. Using a fine-mesh sifter, dust confectioners' sugar over the top of the clafoutis. Place under the broiler, watching carefully, until the sugar is brown and caramelized, about 2-3 minutes.
4. Serve warm with a dollop of crème fraîche or a scoop of vanilla ice cream.
Note: The clafoutis can be stored in the refrigerator for up to 3 days. To reheat, place in a 300°F/150°C oven until warmed through.