Cashew Labneh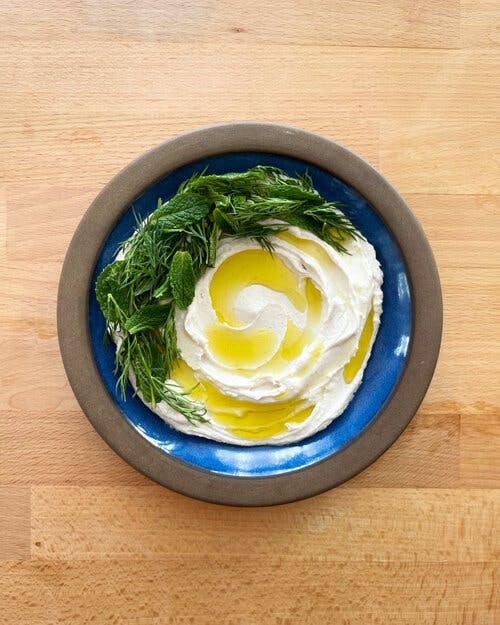 A favorite recipe from my cookbook, Breakfast. Labneh is the kind of food that transports you to a place in time. For me, it's my Tete Laurain's kitchen in the Outer Richmond of San Francisco, with her favorite soap opera playing in the background. This version is vegan, made with cashews and a few simple ingredients. Enjoy with a side of fresh bread and a warm cup of tea.
Cashew Labneh
SERVING SIZE: Makes enough to fill a 15oz jar or medium glass container
Ingredients:
2 x cups
raw cashews, soaked in warm water overnight
1 x pinch
kosher salt
3 x tbsp
lemon juice
1 x tbsp
apple cider vinegar
for storing:
olive oil
3-4 x sprigs of fresh lemon thyme
Recipe:
1. Add all of the ingredients to a high-speed blender, making sure the cashews are fully broken up. You're looking for a smooth, pasty consistency. Adjust with salt or lemon to taste, if needed.
2. Using a spatula, transfer the paste from the blender into a bowl. Refrigerate for at least 4 hours.
3. In the meantime, fill a jar about half way with olive oil, add a few sprigs of lemon thyme, and set aside.
4. Remove the labneh from the refrigerator. Scoop out a walnut-sized amount and form into a dense ball using both hands (two spoons work well, too). Add to the jar. Repeat until all of the paste has been formed and stored in the oil.
5. Labneh will keep in the fridge (both in oil or an airtight container) for 1-2 weeks. Let jar adjust to room temp prior to eating.
NOTES:
To serve: Spread labneh into a shallow dish, drizzle with olive oil and garnish with fresh herbs and spices. Enjoy!
Michelle Nazzal