Chicken Banh Mi Sandwich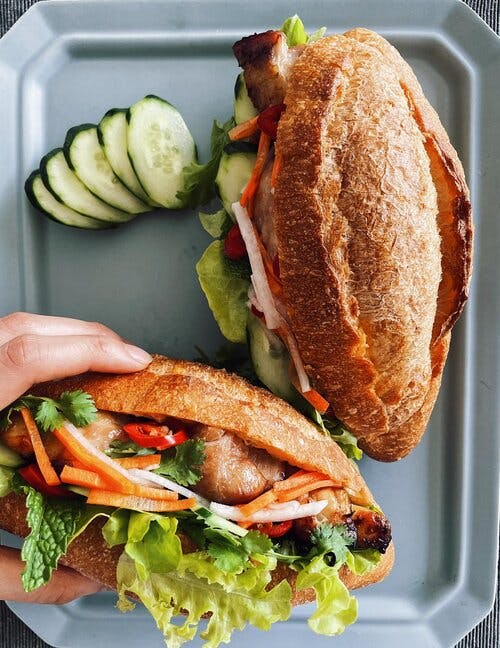 Banh Mi directly translates to "bread", but it also refers to a delicious stuffed sandwich made with baguette. This incredibly colorful sandwich started with the French influence in Vietnam, when bread became a common staple.
Banh Mi represents a beautiful combination of different cultures, using the baguette as a base and Vietnamese ingredients such as pickled vegetables for the filling. Bahn Mi is undeniably the Perfect sandwich. Every bite is a combination of vibrant, rich, savory flavors. I hope you will enjoy this recipe!
Chicken Banh Mi Sandwich
Serving size: 2
Ingredients:
For the Sandwich
2 small Baguette (around 6 inches)
6 sheets of lettuce
3 tablespoons of Pickled carrot*
½ cucumber, sliced
1 chili, sliced
2-3 Coriander
2-3 spring onions
Pickled Carrot*:
60g carrot, julienne
50g daikon rash, julienne
3 tablespoon of vinegar
2 tablespoon of sugar
0.5 teaspoon of salt
2 Tablespoon of water
For the chicken:
350-450g chicken thigh without bone
2t chopped garlic
1 tablespoon coconut flower syrup or honey
1 tablespoon brown sugar
1 tablespoon soy sauce
1 tablespoon mayonnaise
½ t lime zest
Spicy Mayo Sauce:
2 tablespoon hot sauce
4 tablespoon mayonnaise
1 teaspoon honey
2 teaspoon chopped garlic
½ teaspoon fish sauce
Pepper
Directions
1. To make the pickled carrots, slice the carrot and radish as julienne. Add vinegar, sugar, salt, and water. Mix till combined and set aside.
2. Marinate the chicken by combining chopped garlic, coconut flower syrup, brown sugar, soy sauce, mayonnaise, and lime zest. Thoroughly cover the chicken with the sauce and marinate for 20 minutes.
3. Preheat your oven at 180C (with the broiler setting). Line the chicken on a baking tray and grill for about 20-25 minutes until cooked through. (The time depends on how thick your chicken is, so keep an eye out). Then slice the chicken into bite size pieces.
4. Slice the baguette in half the long way, so it opens like a book.
Optional: Then pull a portion of the center of the bread out of the baguette, leaving space for the filling. Place the baguette under the broiler and toast for 2 to 3 minutes until golden crispy. (This is recommended if you like your bread light and crispy. If you prefer soft bread, completely skip this step).
5. In the meantime, prepare spicy mayo sauce by combining hot sauce, mayonnaise, honey, garlic, fish sauce, and pepper.
6. Spread the spicy mayo sauce on the (toasted) baguette. Hint: The more mayo sauce, the better!
7. Stuff the baguette with lettuce, chicken slices, cucumbers, and pickled vegetables.
8. Top with coriander, spring opinions, and slices of chili. Close your baguette and enjoy!
Pinn Chirathivat