Double Pistachio Basbousa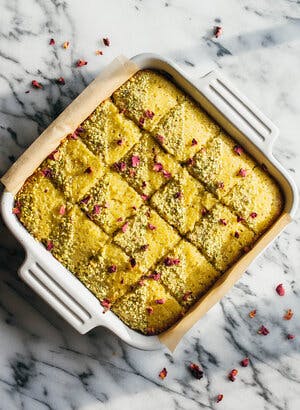 Basbousa is a Middle Eastern semolina cake that gets soaked in syrup when it's hot out of the oven. This guy's a riff off a Janna Gur recipe I found via Molly Yeh––I'll be swapping out the olive oil for roasted pistachio oil for double the pistachio flavor (hence the recipe title!), adding in some cardamom, and drenching the whole thing in a rose water-tinged syrup. The result is a beautifully moist pistachio and coconut-studded cake that's the perfect companion to your afternoon cup of tea (or your morning mug of coffee––cake for breakfast, anyone?)
You can find a video tutorial for this recipe here. Happy baking!
Ingredients:
50g shredded or flaked unsweetened coconut
80g all-purpose flour
125g semolina flour
28g ground roasted unsalted pistachios, plus more for decorating
½ tsp kosher salt
2 tsp baking powder
½ tsp ground cardamom
75g La Tourangelle roasted pistachio oil (or another oil––see notes)
¼ cup heavy cream
½ cup whole milk
3 large eggs
150g sugar
1½ tsp almond extract
For the syrup:
¾ cup water
150g sugar
1 tsp rosewater, optional
Instructions:
1. Preheat the oven to 350ºF. Grease and line an 8x8" pan with parchment paper and set aside.
2. In a medium bowl, combine the coconut, AP flour, semolina, ground pistachios, salt, baking powder and cardamom.
3. In a large bowl, whisk together the oil, cream, and milk. Add the dry ingredients to the wet ingredients and mix until just combined. Set aside.
4. In the bowl of a stand mixer fitted with a whisk attachment, beat the eggs, sugar, and almond extract on high for 5 minutes, until pale and fluffy. Gently fold the egg mixture into the semolina mixture and pour into the prepared pan.
5. Bake until golden and a toothpick comes out with just a few crumbs, around 30-35 minutes.
6. While the cake bakes, make the syrup: combine the water and sugar in a saucepan and simmer for 15 minutes. Stir in rosewater, if using.
7. As soon as the cake comes out of the oven, pour the syrup all over it (yes, all of it! It will seem like a LOT of syrup, but trust me on this one). Let the cake cool completely in the pan. Decorate, cut into squares, and enjoy! Keep any leftovers well sealed and they'll stay fresh for several days.
NOTES:
There are a million ways to riff on this recipe and make it your own. Here are a few suggestions:
Substitute any other type of ground nut for the pistachios (almond meal works here!)
Substitute olive oil or another nut oil for the pistachio oil (La Tourangelle makes a roasted almond and a roasted hazelnut oil, both of which would be great here)
Substitute another extract or flavoring for the rose water (orange blossom extract, vanilla, etc.)