Fingerprints in the Dough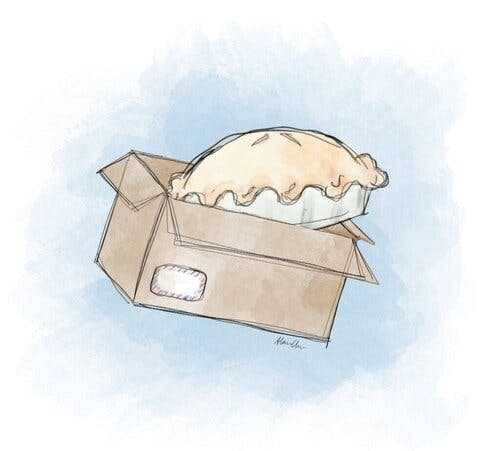 Illustration by Alaina Chou
The Tuesday before Thanksgiving, I sat on my couch absolutely sobbing. I had missed the post office's deadline to overnight my parents a homemade pie for Thanksgiving; the first in my life that I wasn't spending with them. Somehow, in a week where I was obsessed with menu planning and prep sequencing, I had discounted the fact that mail wouldn't be delivered on Thursday, and so my homemade pie would be a full 24 hours too late. I wasn't taking it well.
"Why is this such a big deal? It seems like you are upset about more than a pie" my perceptive/confused husband asked, as his efforts to console me failed miserably.
Several deep breaths and a trip to the post office later, we mailed my parents some distinctly un-Thanksgiving themed chocolate cookies (@SmittenKitchen's Browniest Cookies) that I had baked for myself the day before. I moved on to obsessing about the right combinations of holiday cookies to mail to my friends and family across the country that we wouldn't be able to be with this year.
I spent the hour of my next weekly therapy session delving deeply into my husband's question. Why did it feel so important to bake my parents something they could have on their table at Thanksgiving? Why was dropping off mini-pumpkin loaves at the homes of my friends and neighbors a vital to-do list item? Why was I reading cookie recipes like I was studying for a test?
For a really important and unavoidable reason we can't be with the people we love this year. We can't travel home. We can't share a meal. We can't do so many of the things that actually make the holidays magical. I can (and did) send other gifts this year, but the bakes that I mailed and left on porches have meant the most to me because they feel intimate and personal in a way that I craved this year. Holiday baking feels big this year because these bakes are really my only source of physical contact with the people who are most important to me. 2020 was isolating, and while cookies or a pie aren't necessary for our survival, they are a reminder of what makes life more than just a slog of chores and meetings - they remind us of treating ourselves and of sweet moments with our favorite people. Baking and sharing what I've made is an opportunity for me to drop moments of pleasure off on my loved ones' porches and into their mailboxes; and because that baked good has traveled from my hands to their mouth, that moment of pleasure is also a moment of connection. I touch these loaves, and cookies, and pie crusts with my hands. I shape them and spend time bringing them into being. They have my fingerprints on them. And then, through the magic of priority shipping, they find their way to all the places I cannot go myself; to the people I love, but cannot be with.
Samantha Solomon