German-style Pan-fried Gnocchi (schupfnudeln) with Thai Basil Pesto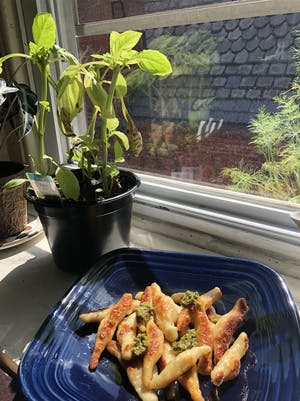 Obsessed with gnocchi? Upgrade your everyday gnocchi by trying out these schupfnudeln, a German spin on the traditional gnocchi! Light and crispy, this potato dish is perfect to impress your family and friends and can be topped with any sauce of your choosing.
German-style Pan-fried Gnocchi (schupfnudeln) with Thai Basil Pesto
Ingredients:
Schupfnudeln
2 large potatoes
2 large free-range eggs
2 ½ cups flour (plus extra)
Salt
¼ cup unsalted butter
Thai basil pesto:
2 cups Thai basil leaves
4 garlic cloves
4 tablespoons plain roasted cashews
1 teaspoon coconut sugar
2 tablespoons dark sesame oil
1 teaspoon lime juice
1 teaspoon soy sauce
1 teaspoon dried chili flakes (optional)
1 tablespoon rice wine vinegar
Instructions:
Peel the potatoes and boil them in salted water until softened. Drain the water and mash the potatoes, then transfer the mashed potatoes to a large bowl and let them cool.
Meanwhile, place all of the ingredients for the Thai basil pesto into a food processor or blender and purée until it has a smooth consistency.
Once the mashed potatoes are cooled, add the flour, eggs, and salt. Use clean hands to knead the ingredients together. If the dough is sticky, add flour until it no longer sticks to your hands.
Place dough onto a floured surface. Take a small section of the dough, approximately a handful, and roll it out into a string that is half an inch thick. Cut strips that are approximately one inch in length. Take the one-inch segment and roll the ends slightly so that the middle section is thicker than the ends. Continue until all of the dough is used up
Bring a large pot of salted water to a boil. Place the schupfnudeln into the boiling water. Bring the temperature of the water down slightly
Once the schupfnudeln float to the top of the water, remove them with a slotted spoon and place them into a colander. Continue until all of the schupfnudeln have been boiled
Melt 1 tablespoon of butter over medium heat in a frying pan. Place approximately 20 schupfnudeln into the pan and gently fry until they are light brown and crispy on both sides. Remove the schupfnudeln from the heat and continue until all of the schupfnudeln have been fried, adding half a tablespoon of butter to the frying pan after every batch.
Serve while hot with the home-made pesto.