Instant Pot Vegetarian Spaghetti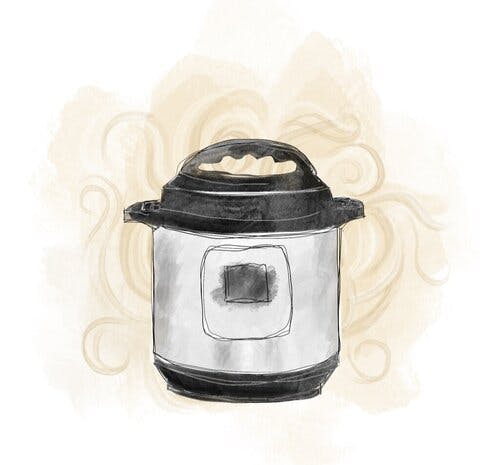 Illustration by Alaina Chou
The Instant Pot is my SAVIOR! I love making Thai curries, pastas, and more in this appliance. The best part is that it doesn't require much attention – sauté vegetables, toss remaining ingredients, and enjoy!
Instant Pot Vegetarian Spaghetti
Ingredients:
2 tablespoon olive oil
2 garlic cloves (minced)
½ onion diced
½ bell pepper sliced
½ carrot sliced
½ cup mushroom
½ cup spinach
½ zucchini sliced
8 oz spaghetti
2 cups water
½ jar pasta sauce (if using pesto, 1-2 tablespoons suffice)
½ cup diced raw chicken breast (optional)
Cheese to top!
Instructions:
1. Set Instant Pot to Sauté mode.
2. Add 2 tablespoons of olive oil when pot is heated and the display reads "HOT"
3. Sauté onions, carrots, and bell peppers for about 3-4 minutes.
4. Add the remaining vegetables and garlic and continue to cook for 2 minutes.
5. Turn off sauté mode.
6. Check that there are no burned bits or browned spots at the pot's base. If so, gently scrape off with 1-2 tablespoons of water.
7. Break spaghetti in half and layer across the vegetables.
8. Add water and pasta sauce over the noodles. Note, if using pesto basil sauce, save sauce until after cooking.
9. If adding chicken breast, layer it last.
10. Close the lid and ensure the valve is set to "sealing."
11. Set the Instant Pot to Pressure Cook/Manual for 4 minutes on high. (Note: The Instant Pot takes about 15 minutes to get to the high pressure, at which it will beep. Then, the 4-minute timer starts).
12. Complete a quick release by turning the valve to venting. Feel free to use oven mitts if it's your first time!
13. Stir everything (if it appears watery, wait a couple minutes as the noodles absorb the sauce/water).
Joshita Varshney