Longevity Noodles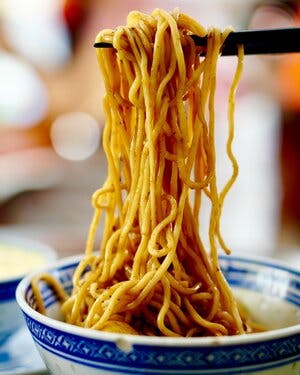 Long noodles equate to a long life. Let's ring in the lunar new year with a staple side dish of longevity noodles! You can adjust this recipe to add any protein or veggies, but we usually serve this as a side dish that vegetarian members of the family can enjoy as well.
Longevity Noodles:
Ingredients:
Noodles:
1 packet-12 oz of any long egg noodles (can be found at any Asian market)
Pot of water
2 stalks green onion
6 shiitake mushrooms
1-2 garlic cloves
1 tbsp neutral oil
Sauce:
2 tbsp water
1 tsp sugar
1 tbsp oyster sauce
1 tbsp dark soy sauce
1 tbsp soy sauce
⅛ tsp pepper
Recipe:
Prep:
1. Cook your noodles as stated on the package. Drain and rinse the noodles in a colander then set aside.
2. Mince your garlic.
3. Wash and cut the green onion stalk into 1.5-inch pieces. Separate the whites and the greens.
4. Wash the shiitake mushrooms and slice.
Cook:
1. In a bowl, combine the ingredients for the sauce mixture and mix.
2. Heat a pan on medium-high. Once heated, add in oil to cover the pan along with the minced garlic and white section of the green onion stalk.
3. When the garlic and white of the green onion are fragrant, add the shiitake mushrooms and the greens of the green onion. The green onion should start to soften in the oil.
4. Add in your noodles and combine everything that is currently in the pan.
5. Pour over your sauce into the pan and stir fry until evenly coated.
6. If the noodles look dry, add a splash of hot water to help your noodles.
7. Plate and enjoy!
Vivian Nguyen