Maple Coconut Granola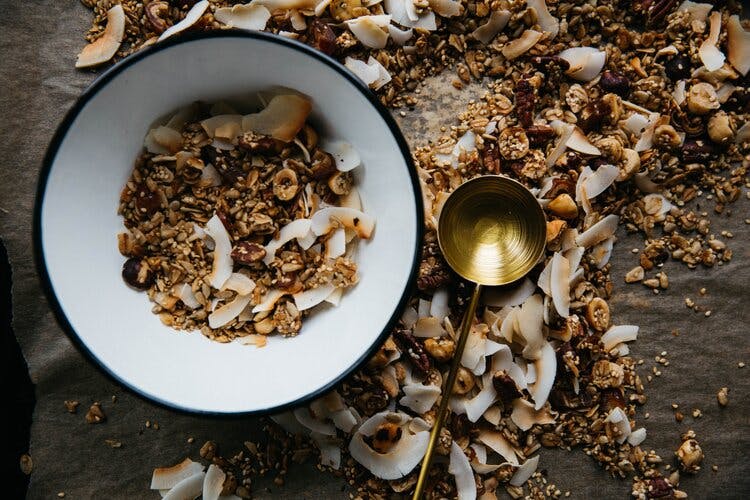 Some people are a fan of loose, cereal-like granola, but I am a big fan of chunky granola. I'm a cluster girl, and I made sure that you will achieve the same clumpy texture that I love! This recipe is perfect for snacking just by itself or pairing with some fresh fruits and yogurt. If you are looking to whip something up for breakfast or a little gift for your loved ones, this is a great go-to recipe!
Maple Coconut Granola
Chunky Granola Tips:
Your oats should be a little crowded in the pan and pressed down before baking, but don't overcrowd it so it doesn't toast all the way through.
Make sure to use oil. In this recipe I used coconut oil, but you may also use olive oil if you have that in hand. Oil gives it a crispy texture you are going for!
Make sure to use parchment paper. This is important because the sweeter would stick to your oats rather than the pan.
Don't over-bake your oats! Take it out of the oven once it turns golden brown. It may not seem like it is done yet, but it will become crispy once it is cooled.
Ingredients:
3 ½ cups of old fashioned oats
½ cups of oat bran
½ cups of melted coconut oil or olive oil
½ maple syrup + 2 tbsp (save for later)
1 teaspoon of salt
1 teaspoon of vanilla extract
1 teaspoon of ground cinnamon (or ½ teaspoon depending on much you like cinnamon)
1 cup of raw nuts
1 cup of coconut flakes
Optional: Dried fruits
Instructions:
1. Preheat the oven to 165 C (325 F) and line two rimmed baking sheets with parchment paper.
2. Combine the oats and oat brain in a bowl. Then combine maple syrup (not including 2 tbsp), coconut oil, vanilla extract, salt, and cinnamon. Stir until well combined.
3. Spread the oat mixture on the lined baking sheet in an even layer. Bake for 30 to 35 minutes without stirring.
4. While the granola is in the oven, mix the nuts and coconut flakes together in a bowl with the remaining maple syrup (2 tbsp).
5. 5 minutes before the granola is done, evenly pour the nut and coconut mixture on top of the granola and continue baking. (NOTE: When the edges of the granola mixture starts to brown (between 25 to 30 minutes), it is the perfect time to put in the nut and coconut mixture.)
6. When the edges of the granola are golden brown and coconut flakes are slightly charred, take it out of the oven. Let it cool completely on the baking sheet, then break the granola into clusters. Add the dried fruits if desired and gently mix to combine.
Pinn Chirathivat
https://www.instagram.com/dinnwithpinn