Pass the Spatula's Peppermint Bark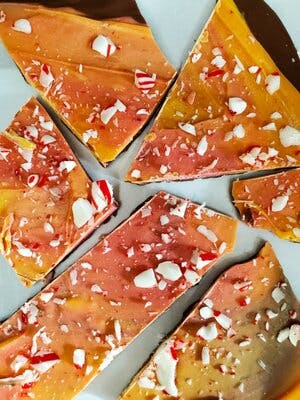 Featured on our "12 Days of Gourmand" holiday series, this recipe comes from our friends at Pass the Spatula. Created by NYC high school students, this food magazine prides itself on celebrating past, present and future trailblazing chefs of color.
Pass the Spatula's Peppermint Bark
Ingredients:
5 oz Milk Chocolate
5 oz White Chocolate
¼ tsp Peppermint Extract
Red and Yellow Food Coloring
1 Candy Cane
Preparation:
1. Place your candy cane in a zip-lock bag and smash with a rolling pin until you get several small pieces. Place to the side.
2. Set a small pot of simmering water on the stove, and place a heatproof bowl on top of it (make sure the water is not touching the bowl). Place your milk chocolate in the bowl and stir until it is melted ⅔ of the way. Stir in half of the peppermint extract, and mix until completely melted.
3. Pour the chocolate mixture on a parchment paper-lined sheet pan and spread a thin even layer.
4. Repeat step 2 with the white chocolate. Separate into two separate containers, adding 1-2 drops of red food coloring in one, and 1-2 drops of red food coloring in the other. (Move quickly to avoid stiff chocolate)
5. Place dollops of the red-colored chocolate on top of your milk chocolate. Fill in the remaining spaces with the yellow-colored chocolate. With an offset spatula or bench scraper, level off the dollops, making sure not to swirl the colors too much. (Should take 1-2 swipes)
6. Sprinkle your crushed candy canes evenly on the top and place in the freezer until hardened completely.
7. To serve, dip a sharp knife in hot water and cut into the shapes you desire. Does not have the be perfect!
Tips:
This recipe serves about 2 people, but it is very easy to double.
Make sure to buy white chocolate and not white chocolate morsels - morsels won't melt as well.
Peppermint extract is quite strong so you can add or take away as much as you'd like.
Chayil Hyland