Pistachio Cardamom Chelsea Buns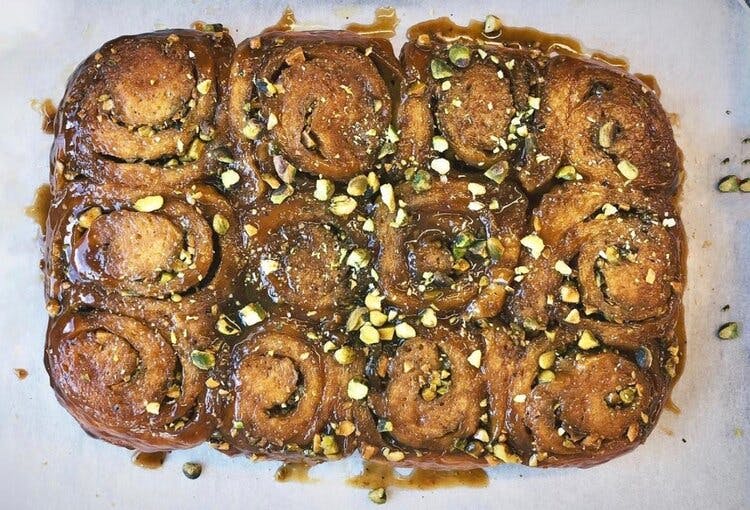 Growing up in the prairies of Manitoba you can almost always guarantee there will be cinnamon rolls brought to any function. I never quite warmed to the densely filled buns topped with overly sweet frosting, and alternatively, enjoyed the more warm and nutty flavors that my dad would often use in his cooking. With my father being from Trinidad we had countless spices, filling multiple cupboards. I was always intrigued by anything my dad cooked, it always felt personal and secretive watching him in the kitchen, never using a recipe book and dumping whatever he felt like into the big stewing pot.
When I began developing this recipe, I knew I wanted to make something familiar to my childhood, a comfort food that pleased everyone and was easily shared. Making cinnamon rolls felt like a no-brainer, however I wanted to change the flavors to better fit the ingredients I often saw my dad using. Cardamom came to mind as an obvious substitute for cinnamon, adding a more savory warm flavor. The buttery texture of the pistachios helps even out the citrus from the zest in the dough and the spice from the filling. These buns are so well rounded, they're perfect for sharing and pair wonderfully well with a good cup of chai.
Pistachio Cardamom Chelsea Buns
SERVES: 12 | PREP TIME: 2.5 HOURS | COOK TIME: 30 MINUTES
Ingredients:
Chelsea Bun Dough:
468 g (3 ¾ cups) AP Flour
12 g (1 Tbsp + 1 Tsp) Active Dry Yeast
150 g (2/3 cup) Butter
320 g (1 1/3 cup) Whole Milk
5 g (1 Tsp) Salt
Filling:
145 g (1 1/4 cup) Chopped Pistachios
55 g (1/4 cup) Softened Butter
5 g (1 tsp) Cardamon
Zest of 1 Orange
Caramel Sauce:
1 g (1/2 cup) Brown sugar
100 g (1/2 cup) Granulated Sugar
85 g (6 Tbsp) Melted Butter
60 ml (1/4 cup) Golden Syrup
Instructions:
1. Combine the milk and butter in a saucepan and heat to 110 F (43 C)
2. Add the milk mixture to a stand mixer and pour yeast on top. Let sit for 10 minutes to activate the yeast.
3. Combine the flour, salt, and sugar in a bowl and whisk to combine. Add the dry ingredients into the wet.
4. Mix on low for 3-4 minutes, the flour should be fully hydrated and a shaggy looking dough should form. Increase the speed to medium high and mix for 6-7 minutes. The dough will be shiny and slightly wet but should be pulling away from the sides once done.
5. Transfer the dough to a clean bowl that has been lightly oiled. Let rise for 1 hour or until doubled in size.
6. While the dough is proofing make the caramel sauce.
7. Combine the two sugars, melted butter, and golden syrup in a bowl and whisk until combined. Set aside until needed.
8. To make the filling combine the cardamom, orange zest, softened butter and sugar in a bowl and cream together using a hand mixer or whisk until light and fluffy. Set aside until needed.
9. Once the dough has finished proofing tip it out onto a generously floured work surface.
10. Roll out into a 18x15 rectangle, you want the long side face you.
11. Spread the cardamom and orange zest filling onto the dough in an even layer, leaving a 1" gap at the bottom of the dough.
12. Starting at the top begin to roll the dough towards you, try to get even thickness throughout the log.
13. Once you reach the bottom lightly pinch together the seam and roll so that it's touching the work surface
14. Cut the log into 12 equal pieces.
15. Pour the caramel mixture into the bottom of a 9x13 pan and place your cut buns inside (3 rows of 4). Make sure space them out evenly to allow space for the second proof.
16. Cover with a towel and place in a warm spot, and allow to proof for 30-60 minutes (time may vary depending on the temperature of the kitchen). You will know they are fully proofed when doubled in size.
17. Preheat the oven to 350F.
18. Once fully proofed place on the middle rack of a preheated oven and bake for 25-30 minutes. You want the top of the rolls to be golden brown, and the caramel sauce to be bubbling up the sides.
19. Take out of the oven and let stand on a cooling rack for 5 minutes. Run a knife along the edge of the buns to ensure that they release from the pan. Place a baking sheet on top and flip to release the buns.
20. Wait 5-10 minutes before serving, enjoy!
Kenya Sookermany