Rose and Rice Krispie Oatmeal Cookies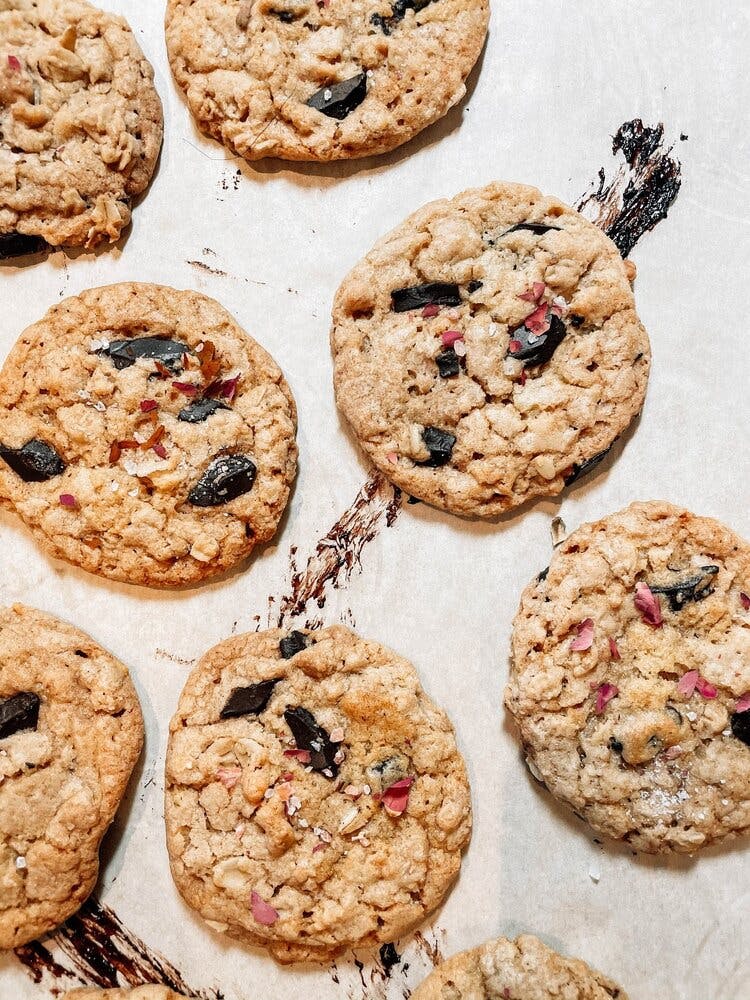 I am obsessed with anything rose and these are my absolute favorite cookies. They're crispy and so flavorful -- I highly recommend them. The secret ingredient? Rice Krispies (you have to try it!). You definitely won't regret it.
Read the full story behind these cookies here.
Rose and Rice Krispie Oatmeal Cookies
Ingredients:
1 cup of butter, softened
1 cup of brown sugar
1 cup of white sugar
2 eggs
2 tsp vanilla extract
1 tsp baking soda
1 tsp baking powder
1tsp salt
1 tsp Rosewater
2 cups of flour
1 cup of chocolate chips
2 cups of Rice Krispies
2 cups of quick oats
Garnish
Instructions:
1. Preheat the oven to 350 degrees F. Line a baking pan with parchment paper and set aside.
2. In a separate bowl mix flour, baking soda, salt, baking powder. Set aside.
3. Cream together butter and sugars until combined.
4. Beat in eggs, rose water, and vanilla until fluffy.
5. Mix in the dry ingredients until combined.
6. Add 8 oz package of chocolate chips and quick oats and mix well.
7. Add the rice krispies (just barely combine).
8. Roll 2-3 TBS (depending on how large you like your cookies) of dough at a time into balls and place them evenly spaced on your prepared cookie sheets. (alternately, use a small cookie scoop to make your cookies).
9. Bake in a preheated oven for approximately 8-10 minutes.
10. Let them sit on the baking pan for 2 minutes before removing to the cooling rack.
11. Garnish with pink sea salt and rose petals.
Maggie Tang