The Secret Behind My Match Made in Heaven Cookie Recipe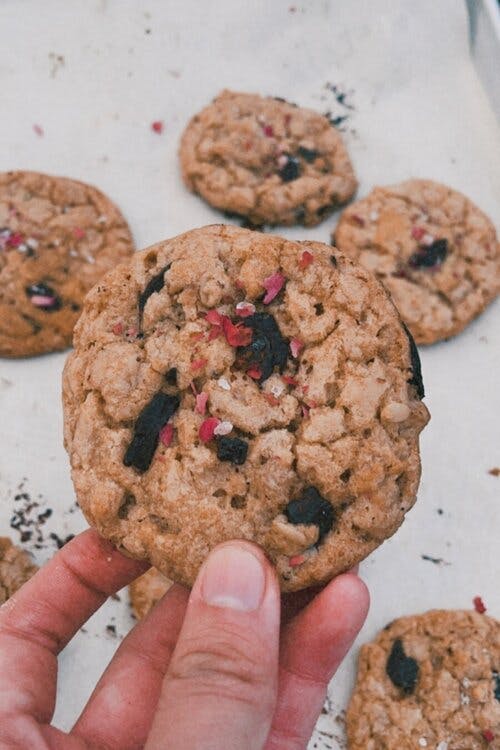 When I was young, baking meant buying the Pillsbury's holiday themed pre-made cookie dough-- you know, the one's with Santa or reindeer on them? --and placing the perfect circles onto a greased pan. Just like magic, a dozen warm, mouth-watering cookies came out of the oven within ten minutes.
Everything changed when I went to boarding school.
Students could use the school's commercial kitchen and make desserts for the entire student community. I had access to fifty-pound flour bags, the Hobart mixing bowl, and an endless amount of ingredients in my high school's magical kitchen. It became an addiction.
At first, I followed the simple, classic Midland recipes such as Apple Crisp and Grease Bars. Then, one day, I discovered websites such as Bon Appetit, Food 52, and AllRecipies.com.
It was magical. A never-ending list of desserts with pictures popped up on the screen. The different categories such as pies split off into even smaller categories such as "apple pies" and "blueberry pies." Thousands of cookie recipes from different countries made my mouth water when I scrolled through the page. I wanted to make them all.
I was obsessed with cookies. As I started baking more and more, I started wondering why each batch of cookies came out differently. What made them crunchy? Why did they come out soft sometimes and rock hard other times? I wondered how adding a few simple ingredients like eggs, sugar, butter, and flour can create a cookie.
I went on a mission to discover how to make the perfect chocolate chip cookie. I wanted to make a cookie that was crunchy on the edges, but had a soft center with gooey chocolate chips inside. I wanted to make a cookie with a lasting butterscotch taste that melted in your mouth. The perfect cookie.
I decided to conduct my own experiments. The taste of the same recipe could come out completely differently by altering the form (ex. melted vs. creamed butter) and quantity of the ingredients. I discovered that for a puffier and cakier cookie, I needed to add baking powder. For soft and chewy cookies, I had to use more brown sugar. My favorite mix-in––Rice Krispies––made the cookies extra crunchy and delicious. Slowly, I uncovered the mysteries of baking and crafted my own cookie. Adding what seemed like inexplicable ingredients such as baking powder or cream of tartar finally made sense.
Some people learn the science of baking in a classroom while others never figure it out. I could not tell you the one secret to a perfect cookie because there isn't just one. Each ingredient serves a vital role, and everyone has their own preferences. If you like it crispy, go with more white sugar. Prefer it cakier? Add my flour. Through all this experimentation, I found my favorite cookies -- Rose and Rice Krispie Chocolate Chip Oatmeal. And yes, the Rice Krispies make all the difference.
If you asked me how to make chocolate chip cookies a few years ago, I would have told you to go to your local grocery store (ie. Vons :) ) and buy pre-made cookie dough. I've learned that a chocolate chip cookie is so much more than that. Baking is a science and an art. My life would not be as sweet without it.
Maggie Tang