The Taste of Holi: Mutton Curry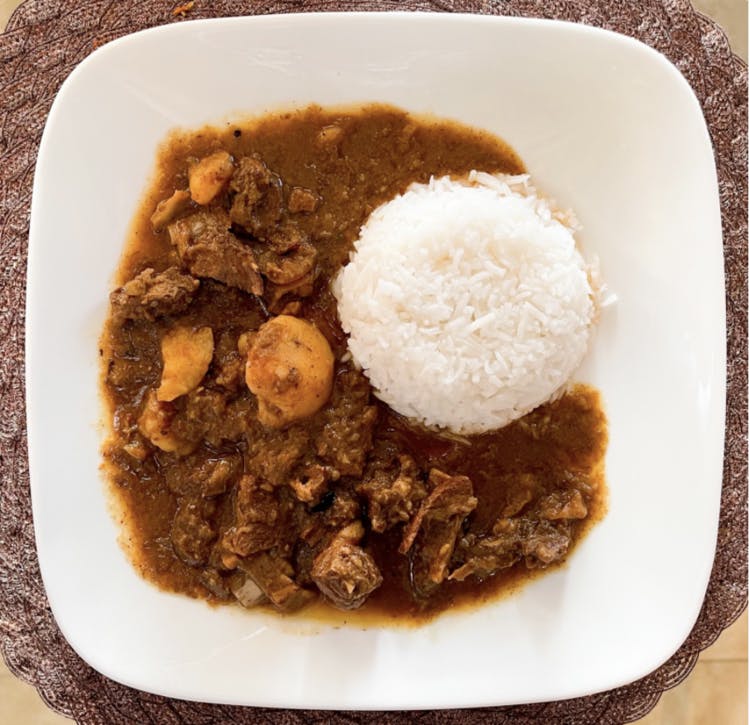 Every year, my family celebrates Holi, the Indian festival of colors and celebration of the coming of Spring. Holi began as a Hindu festival honoring not only the unfaltering love between the god Krishna and his lover Radha, but also the triumph of the god Vishnu and his devotees over the demon Hiranyakashipu and his sister Holika. Over time, the festival and its traditions diffused throughout South Asia. Today, the holiday is celebrated by many, with traditions unique to each region. My Bihari family celebrates by making a delicious mutton curry, and I've enlisted the help of my mom to help teach you how to make it.
Mutton Curry
Ingredients:
Marinade:
• 2 lbs mutton
• ½ cup yogurt
• 1 tbsp salt
• 1 tsp turmeric
• 1 tsp garam masala
Curry:
• 4 thinly sliced onions
• 3 small potatoes
• 1 tbsp minced garlic
• 1 tbsp minced ginger
• 1 tbsp salt
Whole spices:

• 2 inches cinnamon
• 8 pods cardamom
• 8 cloves
• 2-4 whole red chilis
Powder spices:

• 2 tbsp coriander
• 1 tsp cumin
• 1 tsp garam masala
• ½ tsp turmeric
Instructions:
Making the marinade:
1. In a large bowl, mix the yogurt, salt, turmeric, and garam masala well.
2. Set the mutton in a shallow dish and cover with the marinade. Make sure to coat the meat thoroughly.
3. Leave the meat to marinate overnight.
Making the curry:

1. Peel and cut the potatoes into halves. Place them into the mutton marinade and allow them to sit with the meat.
2. Heat 3-4 tbsp of cooking oil in a wok. Once the oil is hot, add all of the whole spices. Allow the spices to sit for about 1 minute.
3. Add the onion, ginger, and garlic. Fry on medium to high heat for about 15 minutes, stirring occasionally.
4. Add the powdered spices and the salt. Turn the heat to medium and cook for another 10 minutes, stirring occasionally.
5. Add the marinated mutton. Cook for another 20-35 minutes, or until most of the excess liquid has evaporated.
6. Add four cups of water. Bring to a boil, then turn the heat to low, cover the wok, and cook for another 45 minutes, or until the meat falls off the bone easily.
7. Taste for salt and add more to taste.
8. Serve with steamed white rice and enjoy!
Anika Sharan