Upper West Side Food Trek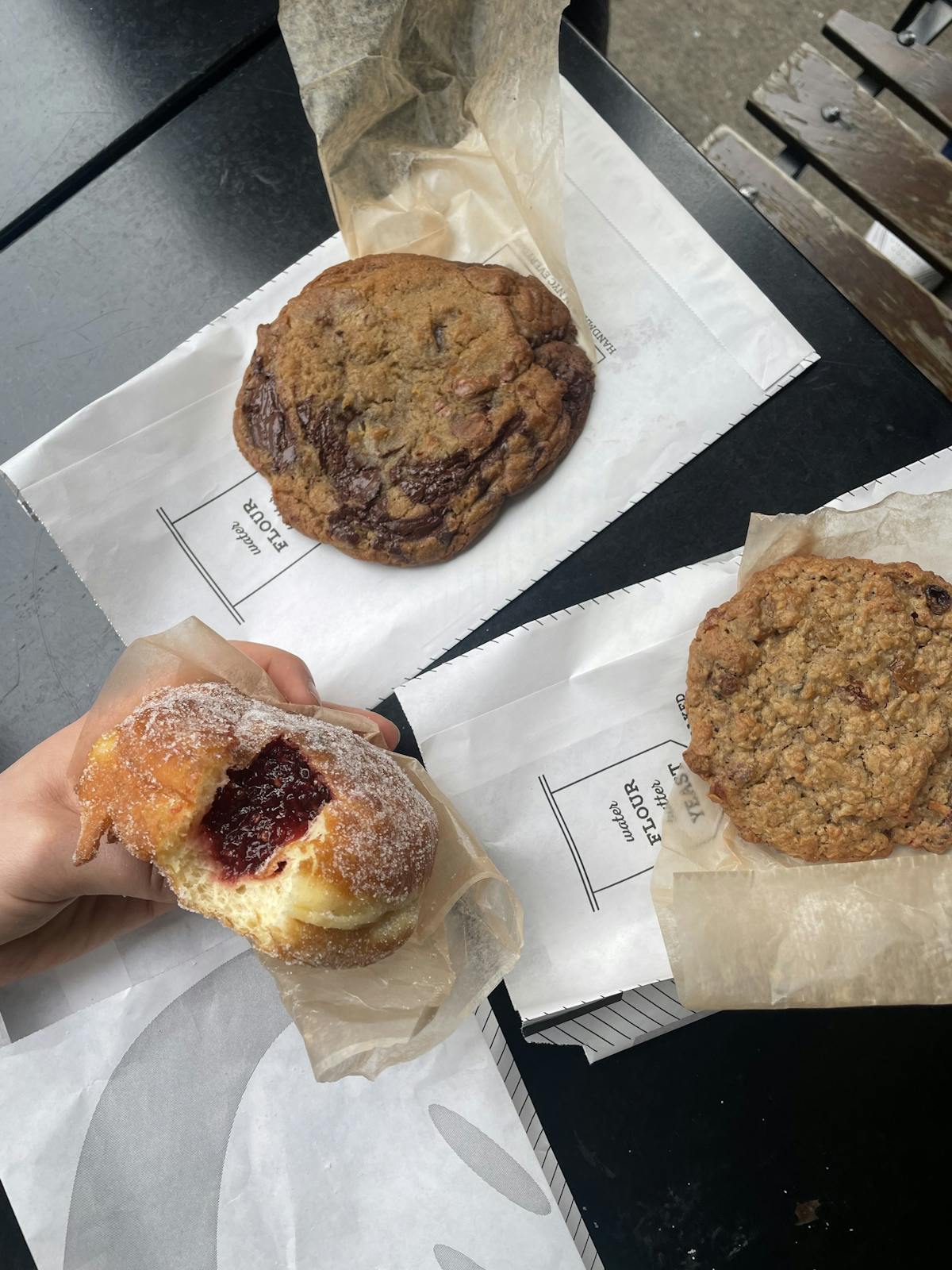 The Upper West Side: home of Lincoln Center, the Metropolitan Opera, the Museum of Natural History, and some really great food. On Saturday, January 28, over a dozen Columbia Gourmand members trekked just south of campus to explore the culinary offerings of the Upper West Side for their inaugural event of 2023.
The first stop was Charles Pan-Fried Chicken ($$) on 72nd street, a tiny soul food operation whose cornbread was as delicious as the staff was warm and welcoming. We snacked on barbeque chicken, mac and cheese, collard greens, cornbread, and, of course, their signature pan-fried chicken. To finish, we were generously offered velvety banana pudding and tangy strawberry cheesecake, which finished off a perfect start to the day.
The next stop was Zabar's ($$), the iconic Upper West Side market and café on 79th and Broadway that has been a neighborhood fixture since 1934. Members perused the seemingly endless aisles filled with their renowned selection of cheeses, meats, smoked fish, and baked goods, then stopped for rugelach, babka, and frozen yogurt in the café. My apricot and cinnamon rugelach was the perfect side piece for my latte.
After Zabar's, we headed to Joe's Steam Rice Roll ($) on Amsterdam Ave and 80th where we patiently waited for their signature dish — Hong Kong-style rice rolls. These thin rice sheets were steamed until they were soft and custardy, then filled with a choice of vegetables, meats, and herbs. Some favorites were the barbeque pork steam rice roll and Chinese crepes stuffed with fried eggs and hot dogs. The chewy, savory rice rolls were the perfect comfort food on a freezing January Saturday.
To finish the day, the group headed up a block to Orwashers ($$), the landmark Jewish bakery that has been operating since 1916. Even though we were stuffed, we could not resist the freshly baked croissants, gooey chocolate chip cookies, and fluffy jelly donuts. Not only were the donuts hand filled to order, but there were four (!) different jelly options. I chose classic raspberry, which added the perfect tart touch to the sugar-encrusted donut.
It was hard to believe that we could eat so much after only four stops, which barely scratched the surface of the Upper West Side's rich culinary legacy. Although it was a tough consensus, Joe's Steam Rice Roll was voted as the favorite stop. Charles Pan Fried Chicken was a close second, not only because of their incredible food but also because of the lovely people there.
`The Upper West Side is home to much more than elite cultural institutions and a plethora of dog parks; there is deep, rich culinary history and so many places to discover. We cannot wait to see where the next trek will take us! Follow us on Instagram (@gourmandcolumbia) to keep up with us and our food treks through New York.
By Meredith Marden