Yum Woosen (Vermicelli Noodle Salad)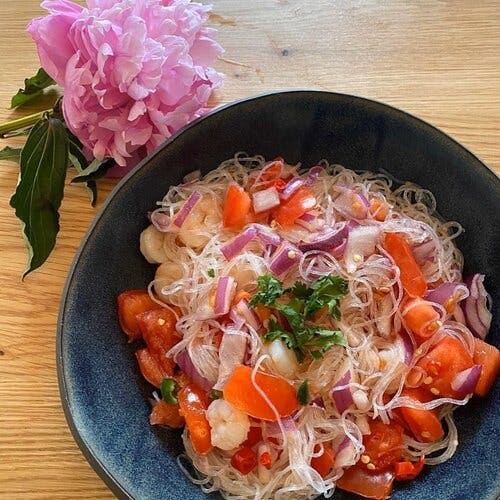 Fresh, healthy, with bursts of zippy umami flavors!!! This simple Thai dish takes just ~20 minutes to whip together and has been on regular rotation in our apartment, even more so now that we are seeing increasingly warmer days ahead of us! The noodles have a chewy, silky texture that absorbs all the vibrant flavors beautifully without feeling the slightest bit heavy, as they are made from mung bean flour.
We used shrimp in our salad but if you're vegan or vegetarian, feel free to forgo the shrimp! This is also gluten-free. Add crushed peanuts, more cilantro, and fresh chili if you want YET another spicy kick, and come join us on the porch as we slurp this baby down with some iced tea.
Yum Woosen (Vermicelli Noodle Salad)
Ingredients:
1 pack of vermicelli noodles (you can get this in the Asian section at most grocery stores or Whole Foods)
1 handful of tail-off, peeled, and deveined uncooked shrimp (we used uncooked frozen from Whole Foods)
1 medium sized tomato, diced
¼ large red onion, diced
½ lime, sliced into pieces for ease of juicing
3 Thai chilis, chopped into small pieces
1 tbs fish sauce
Cilantro to garnish
Instructions:
Prep time: 5 minutes | Cook Time: 10 minutes
1. Soak vermicelli in a bowl of room temperature water and move noodles around in water until they separate apart (up to 1 minute). Bring water to boil in a pot. Once water boils, throw vermicelli in the pot and blanch until they become a silky jelly consistency or to the softness that you want (about 1 minute). Drain the vermicelli noodles and set aside.
2. Cook shrimp in boiling water until flesh is pearly and opaque (5-7 minutes). Drain shrimp and set aside.
3. Construct the vermicelli noodle salad: squeeze all the lime in a bowl, then add 1 tbs fish sauce. Throw in chopped chili, diced tomato and red onion. Toss until well mixed.
4. Add the cooked shrimp and vermicelli noodles. Toss nice and well with tongs or a fork (about 2 minutes).
Garnish with cilantro and enjoy with white wine or Thai tea, if you have some :)
Pearl Banjurtrungkajorn